The 10x500m erg rowing workout is a seriously hard workout to do any time of the rowing season. But it's really effective in the Fall and early Spring so let's take a look at some benefits:
Improving your 5K, 6K and 2K Erg Score
Lifting your Pain Threshold
Sharpening your Technique Efficiency at High Rates
Developing your Explosive Power
Strengthening your Mental Toughness
What 500m Erg Rowing Pace should I Aim For?
For early Fall, you should aim for your 2k split + 5/6 seconds and aim to rate between 24 and 26 strokes per minute.
For early Spring sessions you should start with your 2k split + 5 seconds and aim to rate between 24 and 26 strokes per minute. And as you get faster over weeks, you should look to lifting your rate to 28-30 and aiming for your 2k split + 1-2 seconds.
Why should I do 10x500m in the Fall?
There are a couple of reasons. The main reason is to give your system an occasional lift into higher intensity to support you in 6k/5k tests. A second reason is to give your system a stimulus and stay in touch with what rowing is all about – high intensity hard rowing. A third reason is that it can be a welcome change for the boredom of longer workouts.
10x500m at lower rates is around a 20 – 25 minute session. You will be doing a lot of longer workouts (for example 3x20minutes or 2x 30minutes, 10ks etc.) which are like the cornerstone to the success of your rowing season. So a twice monthly or a weekly session of 500s for 3-6 weeks in October/November is a great addition to any training schedule.
How should I Approach 10x500s – What are the Best Tactics?
Doing the 10x500m correctly is crucial – lets bullet point these, just so there is nothing left unclear:
Take is easier in the first 5-6 500s and aim to build for the last 4-5.
Do not go too hard too early – this is a major mistake and you will pay for it later in the session.
Attack the first 5 strokes to get your average split down (use short strokes for 1-2 then lengthen)
Relax. Yes – work hard on the power phase, but relax on the recovery.
Take a drink of water between 500s and use a towel
Keep moving very slowly and pulling very light on the rest phase.
Can I take a longer rest?
Yes, you can start 10x500m with a 2 minute rest. Then aim to reduce your rest time by 10-15 seconds per week over 4-6 weeks.
Also, 1 minute rest is the lowest you should go, anything less and it becomes a trade off between quality and recovery.
Can I do 7x500m Instead?
You can do less 500s and keep the rest at 1 minute. That allows you to ramp up the intensity without going over the edge. As you get better, you can add one more each session.
Want More Erg Rowing Insights?
Subscribe to get notified immediately about new posts.
---
Introducing the 2K Erg Book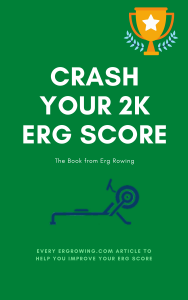 See Book Chapters
9 Chapters full of the best articles from ergrowing.com
---