Everyone has a key erg rowing workout.
Or a number of them.
Finding yours is can make a massive difference to your erg scores (and your Rowing Workouts)– you just gotta know how.
A couple of years ago, a guy I know -called Mike- was doing around 4 erg sessions per week – in November. He was aiming for his crash b indoor rowing championships in February.
Mike is an organised kind of guy. He likes to have a plan – and to stick with it. Usually, he rowed 4 times a week and took 2 days off as recovery days. Sometimes – he did a swim session at his local pool on one of his recovery days.
Mike was working full time and had a busy schedule. But he took care of himself.
His Key Rowing Workouts
He always felt his key session of the week was 2 x 20 minutes at hard steady state – rate 24.
Mike went to the crash b's – and did ok.
But Mike was not happy.
He felt he worked hard. Stayed diligent. Stuck with the program. And did every session down to the T.
Fixing His Erg Workouts
We got talking a few weeks after the indoor rowing erg competition and I suggested to him that he explore new erg workouts, new erg training plans and new sessions.
I reasoned with him that he needed to pivot and change direction radically with his training – and measure and observe the differences in his scores.
Just to see if it made a difference.
Yes – change for change's sake but if it worked – great. If not then that was fine too.
But I also had a plan – so I came up with a few workouts that I had used or known about over the years and gave them to mike.
I advised him to try and find his key rowing workouts in the bundle I gave him.
I encouraged him to find the erg rowing workouts that feel as though they made a difference – not on the day of the workout – but a couple of days later – at the next or following erg rowing workouts.
You see Mike was in a great position to test new workouts. He took 3 days of the 5 in a week off and was clued in to his body and his recovery. He would be in a position to measure
It took him around 2 months – through May and June for him to get a feel for the new rowing workouts I had given him. It took him another 2 months to work out the difference between the ones he liked and the ones he didn't like.
Finally it took him 1 more month to discover the ones that made a difference.
The Key Rowing Workout Sessions.
Mike became happy. And fast.
And because Mike only trained 4 days a week, he decided that he would only do key sessions.
So he ditched the 2×20 minutes and substituted it with a hard 30 minute workout at 26. He felt (and measured) the 30 minutes made him feel better in his 2 x 12 minute workouts and his 2 x 15 minute workouts.
He started doing under – over (3 x 3 minutes Rowing – under and over threshold) and found that they really helped him with his 30 minutes.
Ultimately – he discovered that all his key workouts became interdependent. Each key rowing workout helped another key rowing workout.
It became a virtuous circle.
My Rowing advice to you (if you need advice) is to do 3 things:
1. Change and be prepared to be radical.
2. Find new rowing workouts that will help you to improve
3. Learn what your key rowing workouts are and use them to create your virtuous circle.
[mc4wp_form]
Want More Erg Rowing Insights?
Subscribe to get notified immediately about new posts.
---
Introducing the 2K Erg Book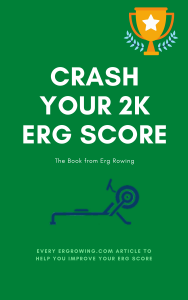 See Book Chapters
9 Chapters full of the best articles from ergrowing.com
---