Note, this was written as part of a three part series, you can learn about Part 1, the advanced 2k erg here.
Attention…. Go!
Scoring good 2k erg times is all about doing what the good ergers do. Imitation is the greatest form of flattery and when it comes to a 2k erg test, imitation of the top Olympic rowers is definitely they way to go.
So what's the 2k erg strategy of rowers who regularly score great 2k times? And more importantly what do you need to do to erg like them?
Most of the top ergers follow the same pattern and it can be easily analysed by breaking the 2k test into 3 parts.
How to Start The 2k Test
They go off very hard for the first few strokes and settle down into their average pace early (after about 20 seconds). They then hold their split at an even manageable pace which is been worked out before hand using an erg score calculator, or from memory.
For example, say you want to pull sub 7 minutes for your 2k. You calculate that you need to have an average split of 1:44.3 /500 for the entire 2k. This will give you a finish time of 6:57.0.
What to do in the Middle
Having gone off hard for 20 seconds your average split might be around 1:40 and as you settle down into pace the average will climb.
Maintain pace and do not go for power 10's or pushes unless you are experienced and fit enough to be able to cope with the extra power. This is a common mistake made by many beginner rowers (and some not so beginner!). If you want to get the most out of yourself you need to be pulling hard – on the red line with high average power.
Red lining your pace means that you are in a position where you are flicking between grinding to a halt and just about able to hang on and manage.
How to Finish
With 500 meters to go slowly raise your power (drop your split by 1 – 2 seconds/500) and hold it until 300 meters to go. From this point on it is all about slowly winding your power and rating up to the last stroke.
Some rowers prefer to delay the beginning of the push for the line to between 400 and 300 meters to go. Decide for yourself on the timing of your sprint. Factors like how good you feel or how fit you are will weigh heavily on the timing of your sprint.
If you have trained well and are well prepared then you will have practiced your sprint to the line. This is what all the great Olympic rowers do. And because they have practiced sprinting (no matter how hard it feels or tired they are) they are able to sprint on auto pilot – no matter what.
So if you have gone off hard and lowered your average power over the first 20 seconds. AND rowed the middle part of your 2k test on the red line. AND you have practiced sprinting in training (no matter how tired you are) you can row yourself to a 2k best time faster than you imagined.
Want More Erg Rowing Insights?
Subscribe to get notified immediately about new posts.
---
Introducing the 2K Erg Book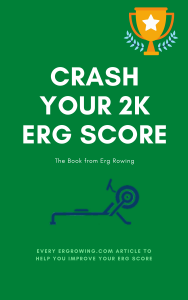 See Book Chapters
9 Chapters full of the best articles from ergrowing.com
---