Ok, preparing for an erg test involves  making sure you do things like some good 2k erg specific workouts. It should also involve having a solid 2k erg strategy as well as doing some mental preparation for the test itself.
But there are a lot of other things that you can do to help you score a good 2k. Let's take a look.
#1 Nutrition
For endurance athletes like us, we need lots and lots of carbohydrates. Because intense erging burns gets it's fuel from carbs you need to make sure you eat diet high in carbohydrates. I've followed this rule for many years and the difference between a high-carb diet and a low-carb diet is like the difference between night and day.
# 2 Hydration
You can run car with gas, but if you don't have oil in the engine you're going to blow it. Your body needs water like a car engine needs oil. Water is lubricant. And because you wouldn't want to put any old oil into your BMW, you wouldn't want to put any old water into your body.
You need a good hydration strategy that ensures you are topped up and ready to pull hard. Sports drinks like Gatorade are good because they have electrolytes that help you retain the fluid. Otherwise you'll be just pouring water down the drain – literally!
# 3 Lactate Threshold
The best workout in the world for erg test preparation is 3 times 1000 meters faster than race pace. You need to do this session 1 or 2 times per week for maximum effect. Warm up well and set the C2 Erg monitor for 1000 meter intervals with 3 minutes rest. Go off hard and maintain a pace that you can hold for the entire piece.
Hold on towards the finish and make sure you do not back off the power. Repeat 3 times. Each 1000 will get harder but this is ok – it's where you earn your race day pain tolerance gold.
# 4 Caffeine
Taking on a good dose of coffee roughly an hour before a hard workout or test can work wonders for your perceived effort. Some studies have shown a 6% drop in perceived effort after the ingestion of caffeine.
But the thing with caffeine is that tolerance can kill its potency. If you are a regular drinker of coffee, tea, caffeine drinks or even high percentage cocoa chocolate – the benefit you will gain on race day will be reduced significantly. For best results, stay off all caffeine for about 2 weeks before a big race. You might suffer a little from DTs but stick with it – it will be worth it.
# 5 Mental Toughness
This term is as elusive as it is important. Mental strength and Erging go hand in hand. Embrace the fact that you are a unique person able to withstand large amounts of suffering and discomfort. It's what sets us apart. If you are having problems with your toughness examine your physical condition. Most mental strength issues have their source in over-training, poor hydration and nutrition or lack of fitness.
# 6 Race Strategy
I've mentioned at the beginning that you need a solid 2k erg strategy. But I want to mention again how important it is to have a race approach – particularly 2k race strategy. And while it's something that you can learn and get better at with experience, you can avoid many mistakes by talking to other more experienced ergers. Ultimate erg domination will only come when you have nailed down an excellent world class 2k erg tactics.
# 7 Relax on the Burn
One major difference between the average and the dominant erg rowers is their ability to row the last 500 meters almost like it's their first. All good race plans are almost symmetrical – the first and last 500's are fast with the middle 1000 slower. Because the last 500 is cumulative it's where the most pain is.
The best way the top rowers deal with it is by being more relaxed the harder it gets. Tense muscles will only lead to a restriction of blood flow to the parts of the body that need it most. So row like the champions – and stay loose.
---
Next Steps – Supporting Articles
Strategy
https://ergrowing.com/crash-your-2k-erg-score-test-strategy/
https://ergrowing.com/advanced-2k-erg-test-indoor-rowing-strategy-part-1/
https://ergrowing.com/advanced-2k-erg-test-indoor-rowing-strategy-part-2/
Workouts
https://ergrowing.com/rowing-rhythm-workout/
https://ergrowing.com/indoor-rowing-workouts-boost-your-vo2-max/
https://ergrowing.com/race-winning-rowing-workouts/
Mental preparation
https://ergrowing.com/mentally-prepare-for-a-2k-erg-test/
[mc4wp_form]
Want More Erg Rowing Insights?
Subscribe to get notified immediately about new posts.
---
Introducing the 2K Erg Book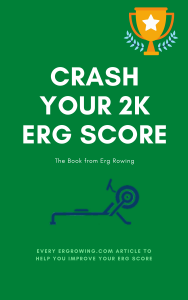 See Book Chapters
9 Chapters full of the best articles from ergrowing.com
---