I do a 7 day run – in to the 2k erg, usually doing the following routine:
Day 7 (1 week before the test)
Hard workout. 1 Week out from the test is normally a time when I do my most intensive rowing workouts. I do repeats of pieces at or close to race intensity. I always make sure I do a long warm up and cool down on hard days like this.
Day 6
Moderate – Hard Workout. 6 days out I continue my test preparation with some more test power pieces and I really aim to be tired at the end of this day. I aim to cash in on the body's natural ability to heal to a point stronger than when it was before the heavy training. It's just like when someone breaks a bone – the bone knits together stronger than it was before the break.
Day 5
Moderate – easy workout. I use this as an active recovery day to help my body clear out any of the debris still lodged in there from my race preparation workouts on day 7 and day 6. I always erg for about 30 – 40 minutes and include some moderate power for about 5 – 10 minutes. I also use the opportunity to do some technical drills such as strapless erging.
Day 4
Rest. I do nothing on this day and try to recover from my race preparation workouts of day 7 and day 6. I make sure I nail my nutrition to ensure recovery and refuelling for the test.
Day 3
Hard – short Workout. I believe this day is an 'open the pipes' up day. I usually do 1 or 2 pieces at or close race power. Normally I do 1000 meters and 500 meters with a 5 – 10 minute break in between. I usually suffer a lot in these pieces because of the day of inactivity on Day 4. It's also a good realty checker – it sharpens my mind as to how tough the test will be.
Day 2
Rest. I do absolutely nothing. I try to avoid all stress and energy sapping situations both mental and physical. I make sure my nutrition plan is helping me recover and build up a store of energy for the big one.
Day 1
Very easy workout. In this workout I normally do some light – moderate pulling for 20 – 25 minutes. I will pull some hard strokes during this time most around race power. I pull no more than 20-30 strokes 3-4 times. It's important to work out if possible on this day because it keeps the body and energy systems flowing.
Day Zero
Test Day. This is a special day and your warm up is a key part. I will discuss my special warm up next time.
[mc4wp_form]
Want More Erg Rowing Insights?
Subscribe to get notified immediately about new posts.
---
Introducing the 2K Erg Book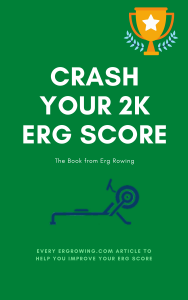 See Book Chapters
9 Chapters full of the best articles from ergrowing.com
---